October starts this week and I'm finding this unseasonably warm weather we've been having is definitely throwing me off. Something about still wearing flip flops and tee shirts makes turning the calendar page to October seem near impossible. But I still see the neighborhood squirrels foraging fast. They are collecting spilled cereal, acorns, and even tufts of stuffing from my ripped outdoor cushion. Their actions are speaking louder than the weather.
Despite the temperatures, my instinctual desire to "put up" the harvest is still present. Over the course of two weeks I froze two bushels of tomatoes. My method is pretty simple: peel, seed, chop, cook, and freeze. I don't cook them for hours all the way down into sauce. I also don't take the shortcut route of quartering and freezing with skins and seeds still intact. Having tried it all in the past, experience has taught me what works best for me in my kitchen.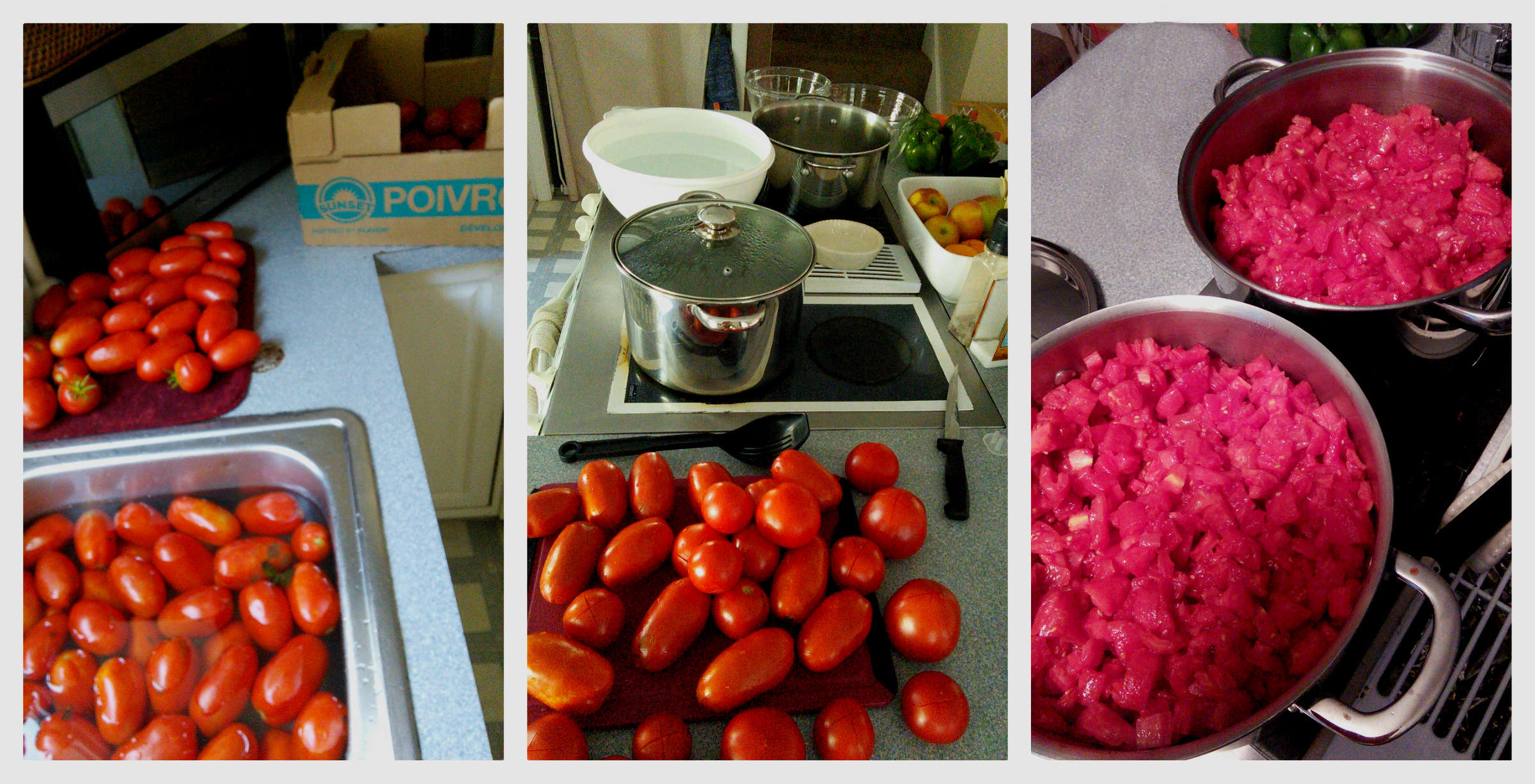 Why not can them? Two reasons: I have more freezer space than dry storage space and, with only two stove burners my kitchen is just not conducive to canning. It's unfortunate. There is something beautiful about rows of mason jars with tastes summer trapped inside.
Also filling the freezer are lots of peppers, bell, jalapeno, and habanero, all sliced and ready to be thrown into chili or stir-fry. The rotisserie chicken carcasses that were thrown in the freezer all summer are now finally being cooked into delicious stock and frozen in quart bags for fall and winter soups. There is enough freezer jam to keep us tasting strawberry all winter. I just need to keep room for all the applesauce which will be moving in next month.
A new thing I'm trying this year is freezing homemade soup in half quart jars. John loves to open a can of soup for a simple weekend lunch or for dinner on evenings I'm not cooking. I just don't like the cans of supermarket soup anymore — I find them too expensive for the not so yummy product inside. So, my compromise to him is to keep us stocked up with wholesome, healthy homemade soup. We'll see how long I keep up with it.
How are you squirreling away for winter? Canning? Stocking the freezer? New bedding, clothes, or other cozy comforts?