One of my dearest friends turned 30 last week and since I show love through food I made the icebox cake she requested.  Plus two more variations on the icebox cake she requested.   The original was chocolate wafer cookies layered with Kahlua whipped cream (inspired from a BuzzFeed video stumbled upon on Facebook).  My recipe is at the bottom of the page. Well, I had to make a kid friendly version with plain whipped cream and chocolate cookies, also. The really inspired cake -- and maybe it's just because there is pumpkin spiced everything everywhere -- was made with ginger snaps and pumpkin spiced whipped cream.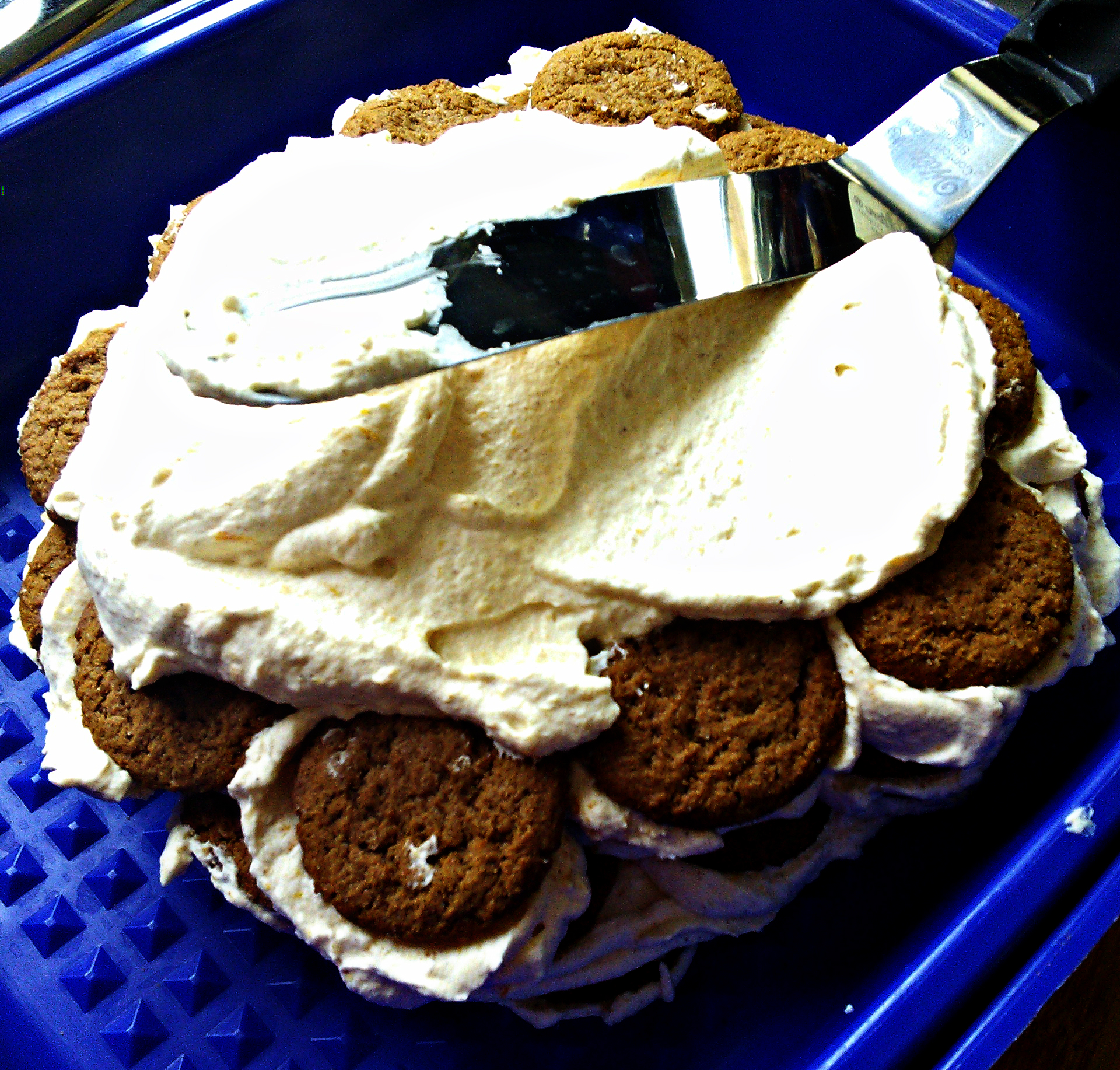 Pumpkin Spiced Icebox Cake
2015-09-28 15:02:09
Simple, rich, fall dessert
Ingredients
14 oz bag Ginger Snap Cookies
2 cups heavy whipping cream
1/2 cup powdered sugar
1/3 cup pumpkin puree
1 tsp ground cinnamon
1/2 tsp ground allspice
2 tsp vanilla
Instructions
Chill bowl and whisk attachment to mixer in freezer for 10 minutes.
Add whipping cream and powdered sugar to chilled bowl and beat on high speed until soft peaks form. Add pumpkin puree, cinnamon, allspice, and vanilla and beat on high speed until stiff peaks form.
Spread whipped cream on the bottoms of ginger snaps, about a tablespoon each, and make the first layer on a cake plate. Top this layer with more whipped cream, making sure to fill the gaps between the cookies. Add another layer of cookies, then whipped cream and continue until cookies are gone or you are satisfied with the size of your cake. Cover top and sides with remaining whipped cream.
Chill cake for at least 4 hours, or overnight. Cut, serve, and enjoy!
Sensibly Homemade http://sensiblyhomemade.com/
Pumpkin Spice Icebox Cake