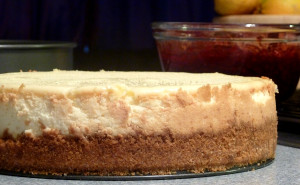 Do you like cheesecake? For years and years and years I didn't like it. Growing up I didn't care for cream cheese. At all. In anything.
At some point in college I developed a liking for the flavored cream cheeses. Oh yeah — a nice healthy layer of vegetable cream cheese spread on a fresh whole wheat bagel (drool). Or even better — strawberry cream cheese on a chocolate chip bagel (double drool)! Ohhhh, that thick chewy bagel, still every so slightly warm and just a little crisp on the outside…
Okay, sorry, this post is supposed to be about cheesecake and how to make a perfectly delicious one. Getting back on track (although I may have to get bagels and cream cheese from Big Apple Bagels in the very near future…).
Anyway, ahem, as an adult I acquired the taste for cream cheese (I've always liked bagels, however that is neither here nor there).
Hubs and I had been dating for about eight months when, for his birthday, I made my first ever cheesecake. I did extensive research for this recipe. I felt the cheesecake had to be above average since I knew it was his favorite dessert and our relationship was still relatively "fresh." I really wanted to impress him.
After comparing at least a dozen recipes I found what I thought would be the perfect one. I read through page after page of comments, taking notes on what I hoped would be the best strategy for a successful, delicious, cheesecake.
All the work paid off, it was excellent.
Hubs loved it. His dad loved it. His uncle (a restaurant industry veteran and taster of cheesecakes produced by professional pastry chefs) said it was they best cheesecake he'd ever eaten. I thought I might be on to something.
The next week I made another cheesecake, and another the following week. I made a few tweaks to the recipe and each time it was delicious. Creamy but firm, rich, it is perfect either served alone (Hubs' favorite) or with an accompaniment of fruit, chocolate, caramel, cookies, etc, etc, etc.
Did you actually read all that? You did?! Wow! Well, your reward is that you finally get to see some action shots, get the recipe, and most importantly "the method" for a super delicious cheesecake. I'm not going to mention the fact that you could have scrolled through my boring story and gone straight to the point right from the beginning — where is the fun in that, anyway?
Without further ado (or rambling), start with the crust. Graham cracker crumbs, sugar, melted butter, and my secret ingredient, nutmeg. Press this into the bottom and one inch up the sides of your greased spring form pan a bake it at 350°F for 15 minutes or until it's golden. (When you take the crust out of the oven you want to put a pan of hot water on the bottom rack, I'll tell you why later.)

Now, for the filling. All your ingredients need to be at room temperature, that's important. Start by combining the cream cheese and sugar until smooth, then mix in the milk. Here is where you need to start really paying attention. Add the eggs one at a time and mix until just incorporated. Over mixing once the eggs are in there (among other things) will lead to a cracked surface on your cheesecake or worse, grainy texture.
Once all the eggs have been stirred in add the lemon juice, vanilla, sour cream, and sift in the flour. Again, when mixing in these ingredients stir gently until just incorporated.

Okay, now that filling is ready to go into our crust. I hope your spring form pan is as tall as mine because it's about to be totally filled up! Carefully place the cheesecake into the preheated oven that is now pretty humid due to the pan of water in the bottom. That humidity is going to help prevent the cheesecake from cracking. When you close the oven door turn the heat down to 325°F and set your timer for 60 minutes.

Now just sit tight. When that timer goes off turn off the heat. Here is where you have some choices. Some cheesecake aficionados say to KEEP THE OVEN DOOR CLOSED for the next five to eight hours. However, I've read other's tip to quickly run a knife between the cake and the side of the pan to prevent cracks due to the cake sticking to the pan as it cools and retracts. IF you did decided to peek at your cheesecake you would see that just the edges are barely set and the middle looks quite wet and "batter like." Don't worry, the cake will continue cooking as it cools and the texture will be just right in a few hours.
I usually make my cheesecakes late in the evening and once I turn the oven off I go to bed and remove the cake in the morning. That works great for me.
Before serving refrigerate the cheesecake for several hours.
The whole process is long, but there is not much labor and the rewards are well worth the wait.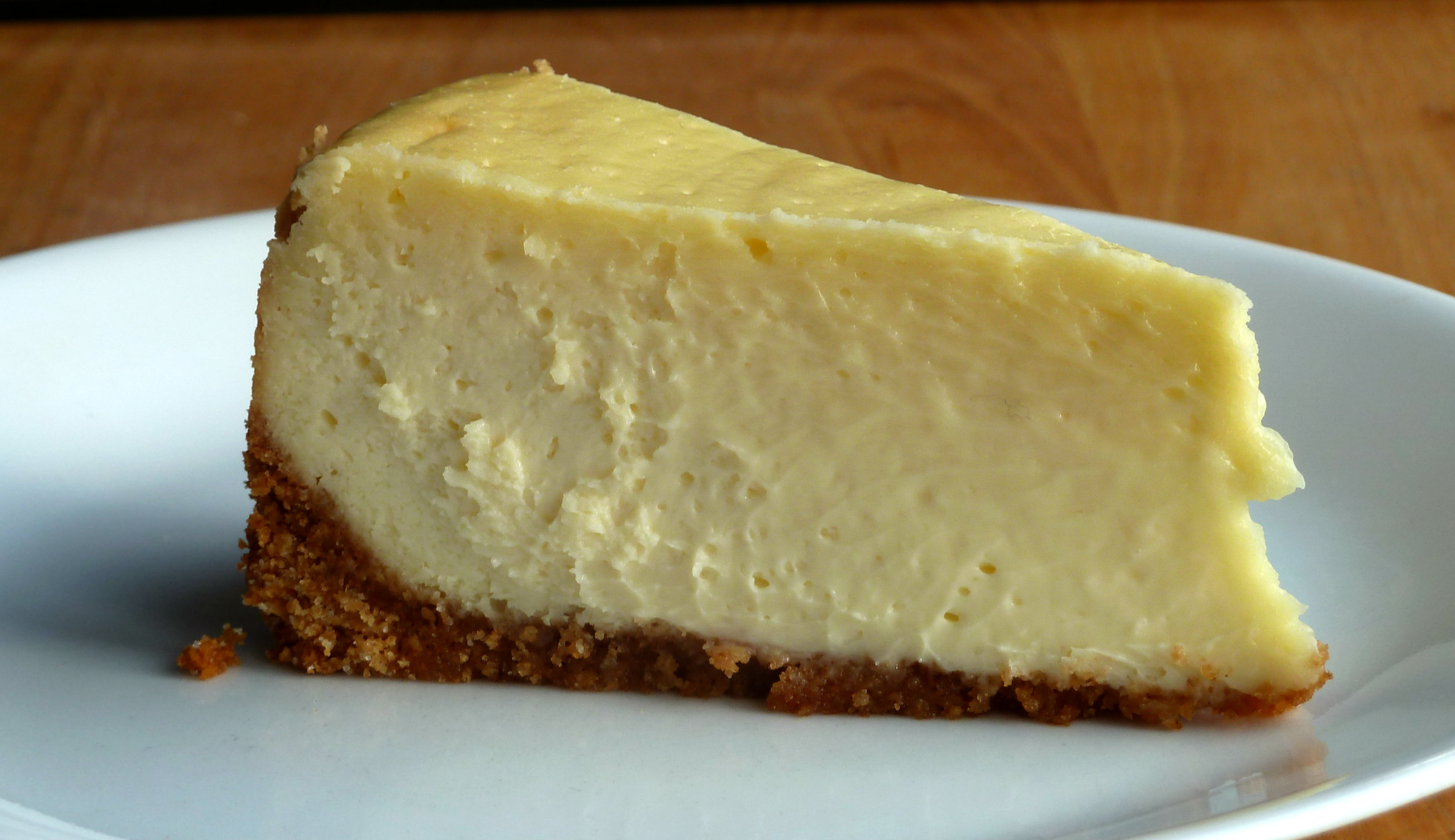 Do you have your own perfect cheesecake recipe and/or method? I'd love to hear what others do to create their own decadent delicious cheesecake.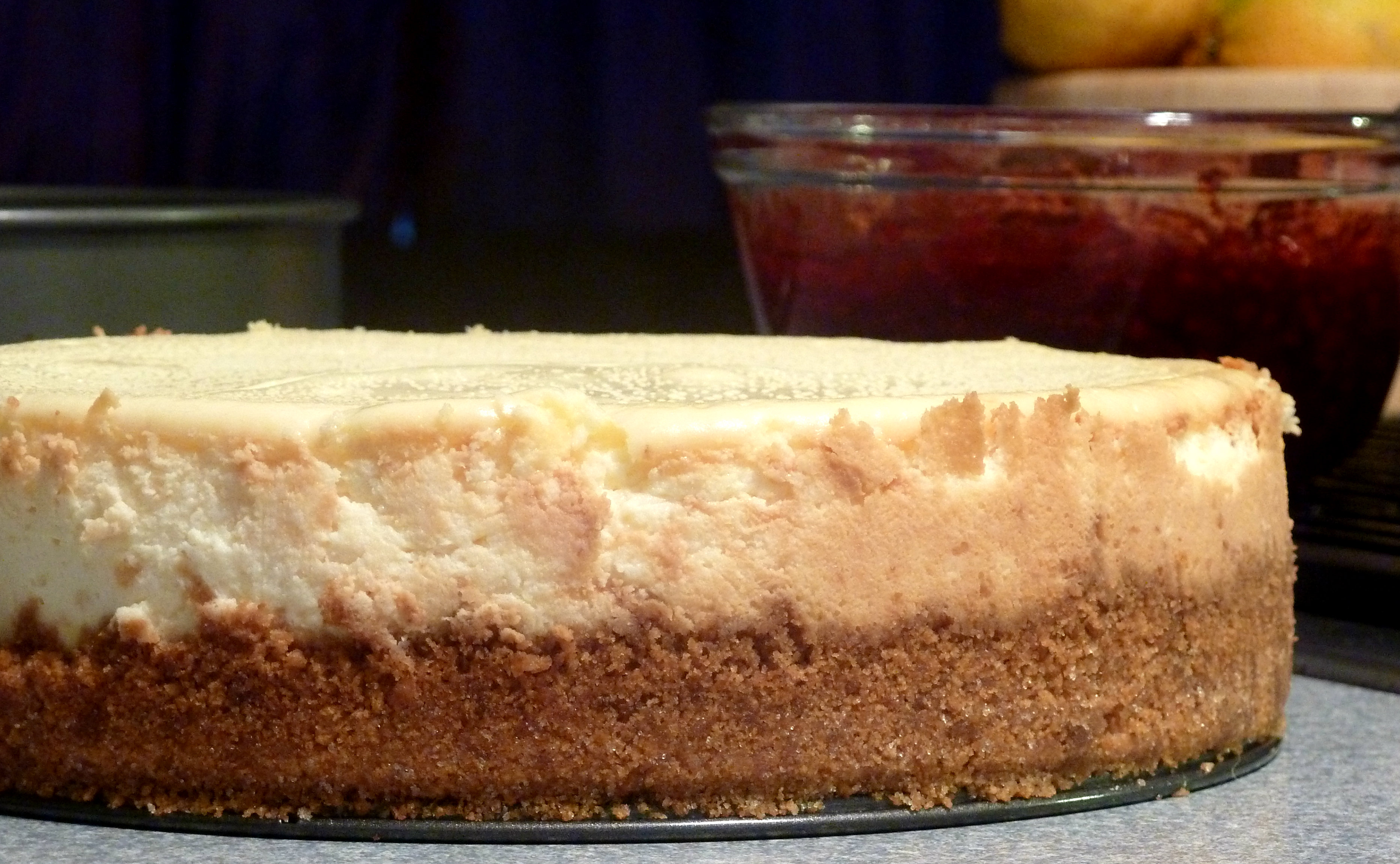 New York Style Cheesecake
2013-03-18 21:47:09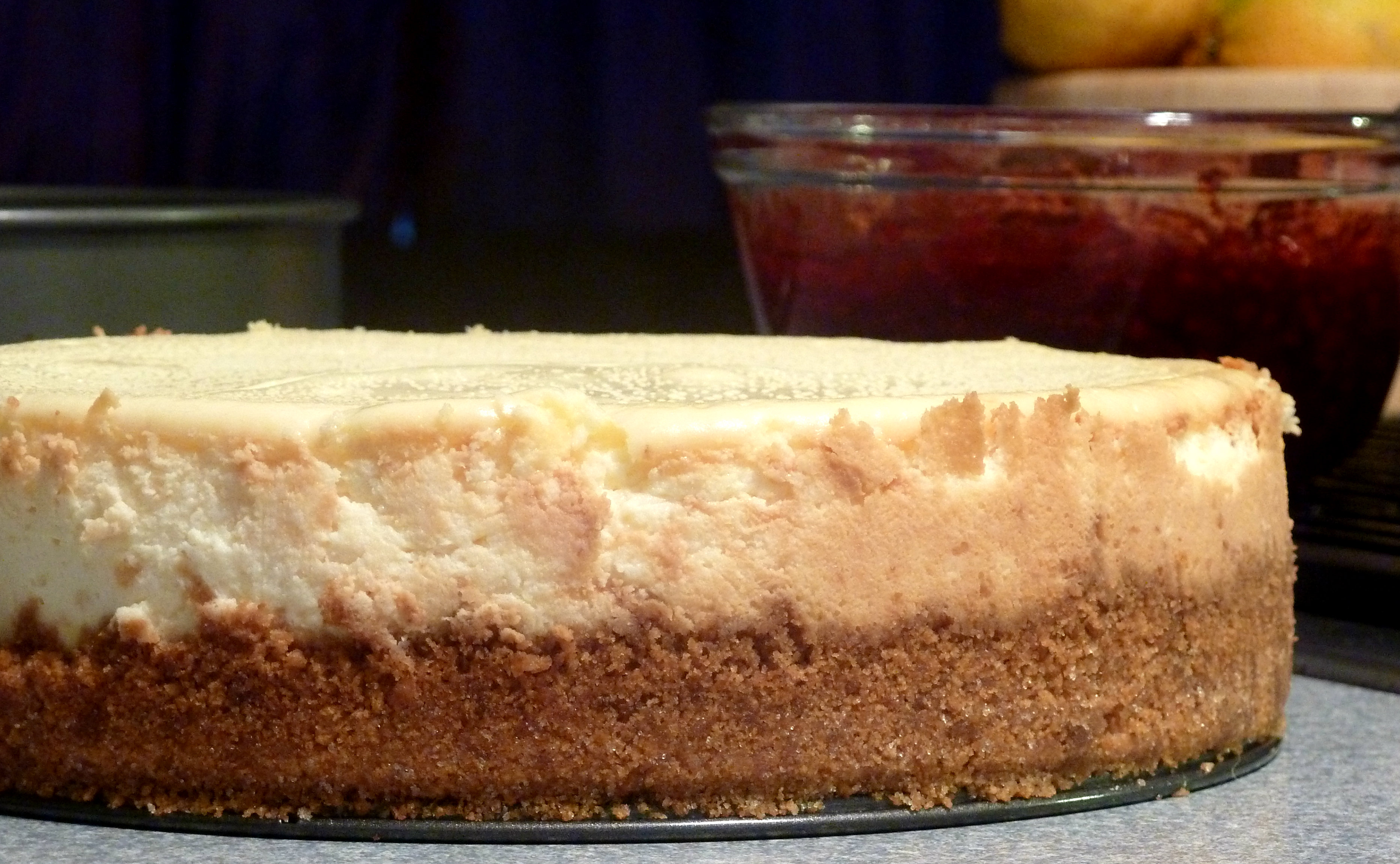 A cheesecake that is totally worth the effort and wait!
Crust
1 1/2 cups graham cracker crumbs
1/3 cup granulated sugar
1/4 butter, melted
1/4 teaspoon nutmeg
Filling
4 8oz packages cream cheese, room temperature
1 1/2 cups granulated sugar
2/3 cup milk, room temperature
4 eggs, room temperature
1 cup sour cream, room temperature,
1 tablespoon pure vanilla extract
2 tablespoons lemon juice
2 tablespoons all-purpose flour
Instructions
Preheat oven to 350°F, lightly grease a 9" spring form pan put together with plate edges down.
For crust mix together graham cracker crumbs, sugar, nutmeg, and butter and press into bottom and up one inch of sides of the prepared spring form pan. Place in preheated oven for 15 minutes or until golden. When crust is removed from oven add a pan of hot water to bottom rack of oven.
For filling mix cream cheese and sugar together until smooth, then add milk. Then gently mix in eggs, one at a time, until just incorporated. Gently mix in vanilla, sour cream, lemon juice, and flour until smooth. Pour filling into prepared crust.
Place in preheated oven and turn the heat down to 325°F. Bake for 1 hour then turn the oven off leaving cheesecake inside for 5 to 8 hours to finish baking and to slowly cool. Chill in refrigerator until serving.
Adapted from Allrecipes Chantal's New York Cheesecake
Sensibly Homemade http://sensiblyhomemade.com/
New York Style Cheesecake