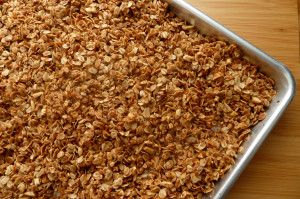 Every other week, usually on Wednesday, I make a batch of granola. Then my girl pigs out on fresh granola all afternoon — she can't resist the stuff. Whatever she leaves behind we eat for breakfast, on top of yogurt (also homemade), for an occasional evening snack, or sometimes even for a quick apple crisp dessert. Granola is one of our staple food items.
The recipe I'm going to share with you is incredibly simple and very easy to make variations of (like chocolate granola, yum). As is a common technique of mine, I researched granola recipes and came up with my own recipe based on things I liked from several different sources. Here is the simple easy recipe:
Start with old fashioned oats, flaked coconut, slivered almonds, steel cut oats, ground flax seed, wheat germ, and cinnamon in a bowl and stir to combine. Put coconut oil, brown sugar, and water in a sauce pan over medium heat until sugar is dissolved and coconut oil is liquefied, then add some honey.

Stir the liquid mixture into the dry mixture making sure all the dry stuff is evenly coated. Spread it onto a large cookie sheet (with edges) and place it into a 300° F oven.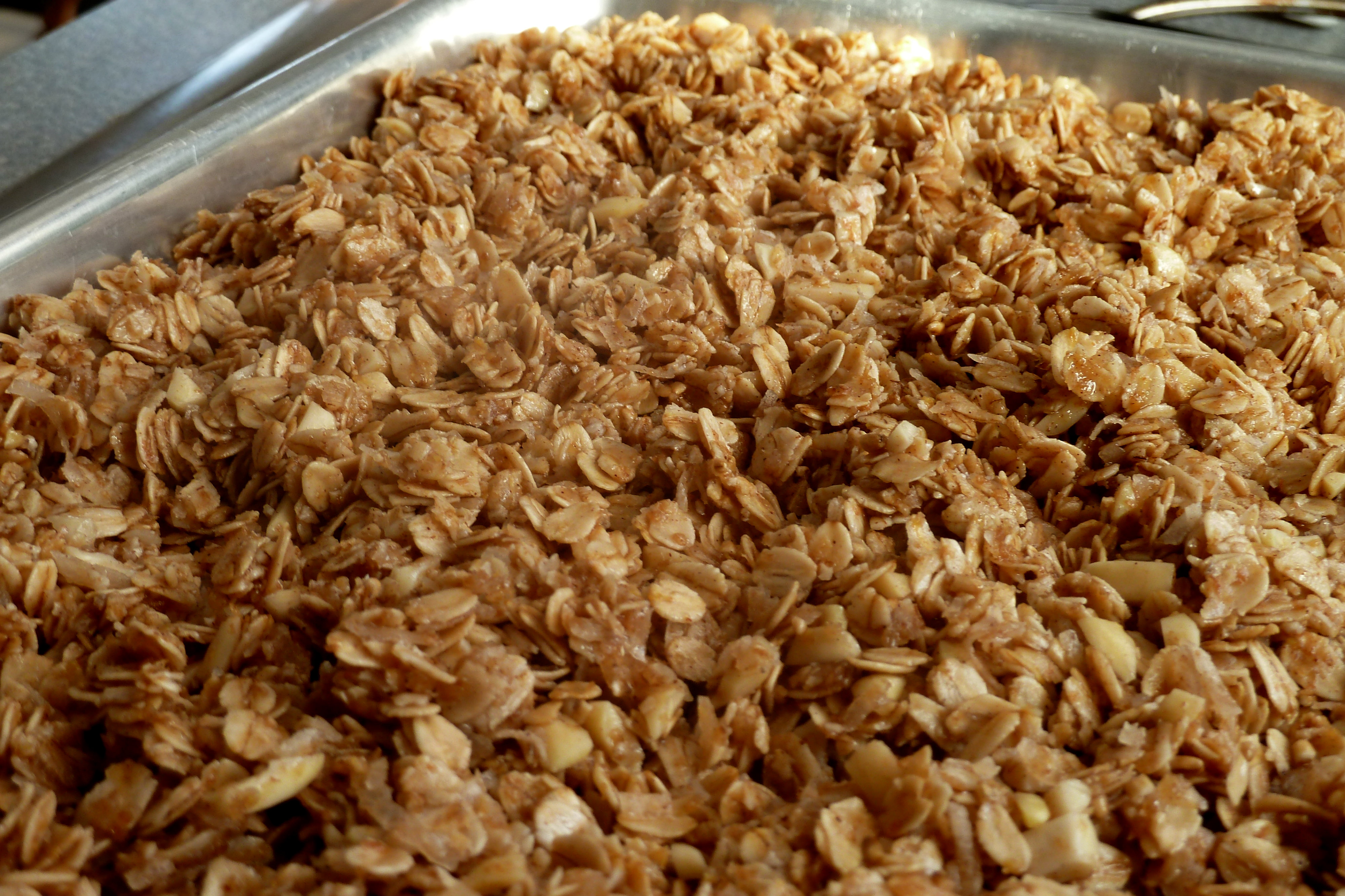 Stir it all around every 15 minutes and let it bake for a hour or a bit longer if you like your granola really toasted and crisp like I do (I bake it to the danger point — right before it starts to scorch).
When it's done you have a pan of nice golden, toasty granola. Let it cool on the pan before placing it into an airtight container.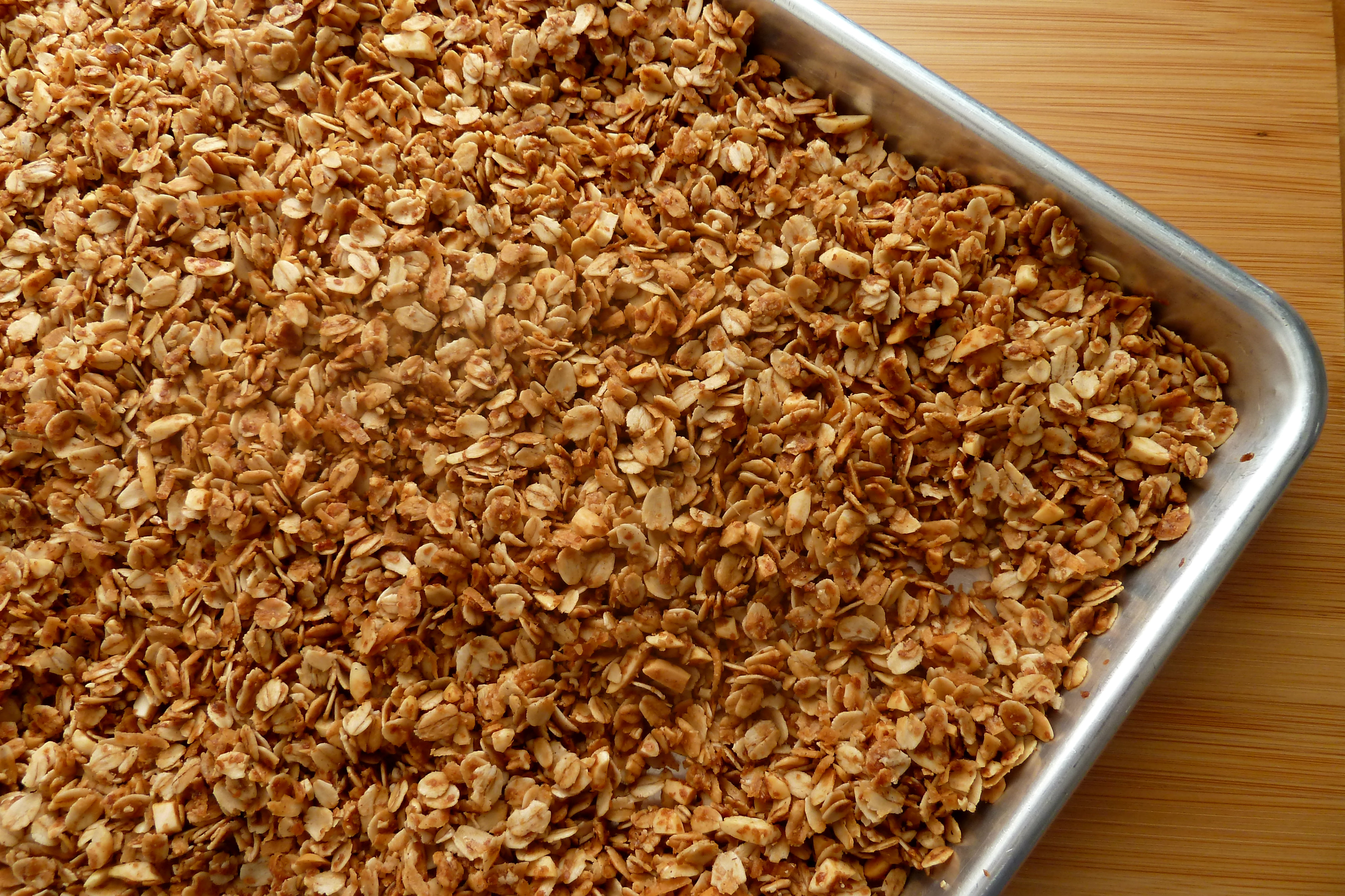 Looks good, right? And, it's pretty loaded with things that are good for you, too. But, as always, be sure to enjoy your granola in moderation — unless you are my daughter… I really can't keep her out of a fresh batch of granola.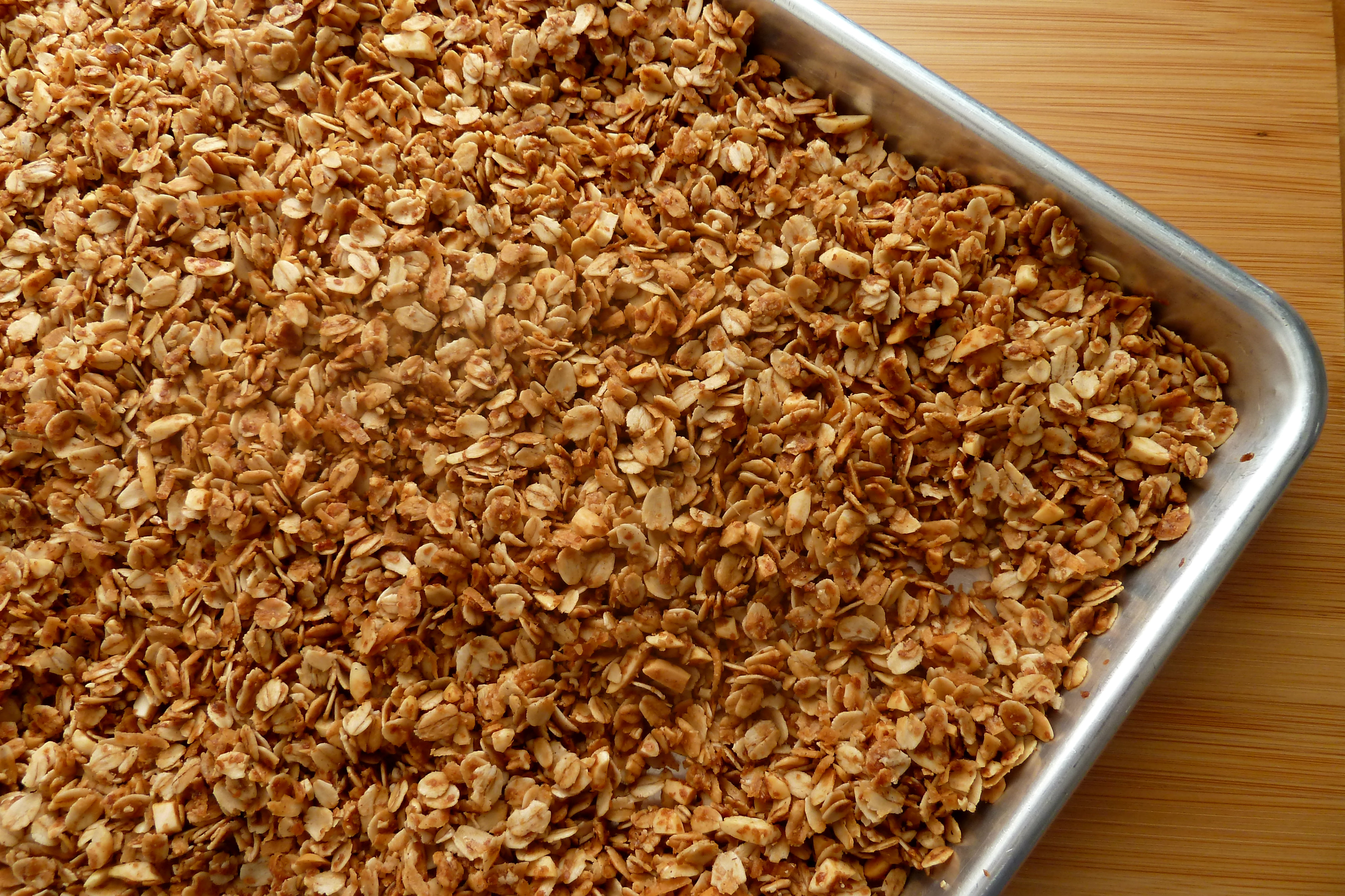 Basic Granola
2013-03-18 20:33:09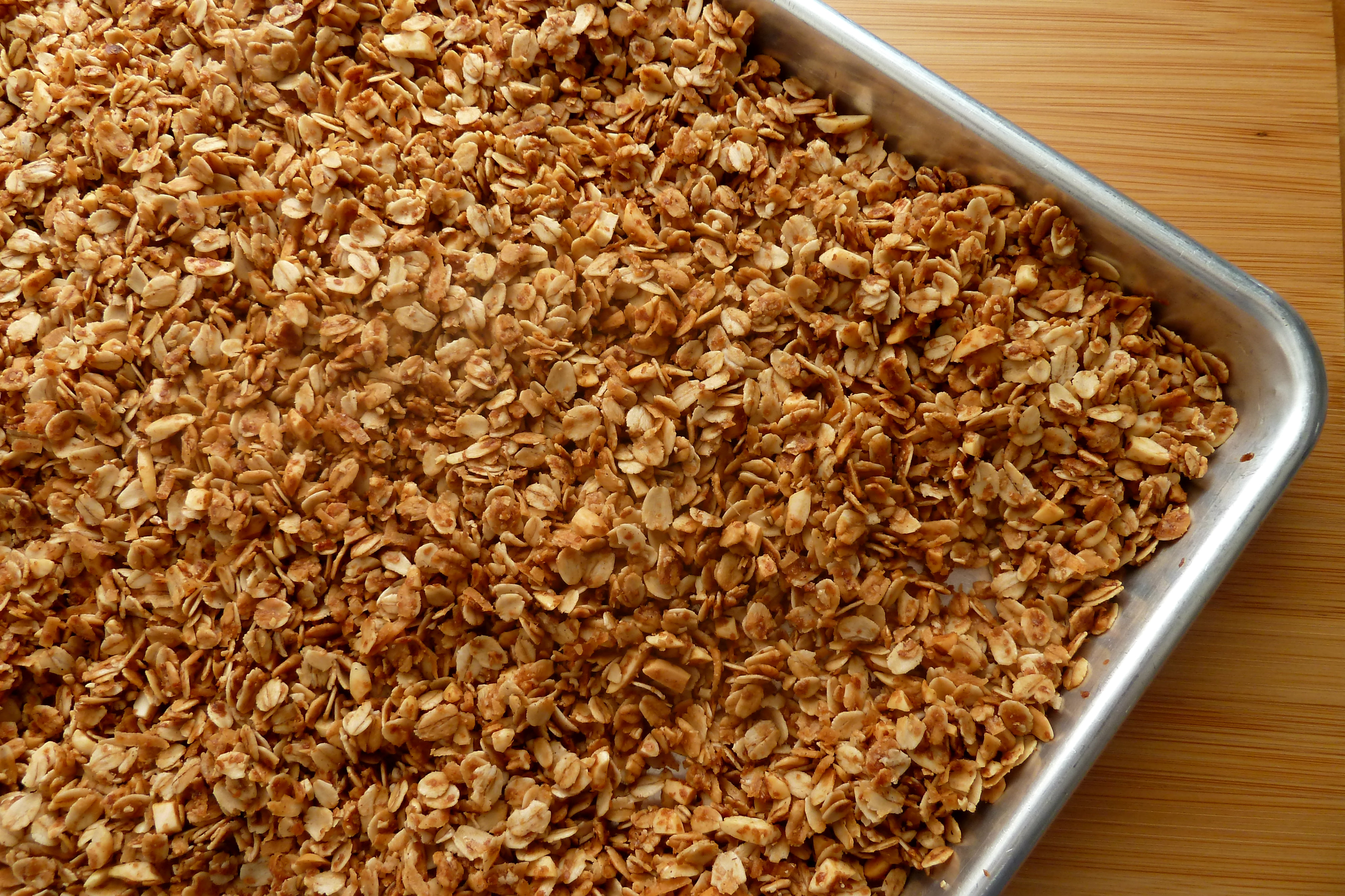 Our family's "everyday" granola -- we are never without a container of this granola in our cupboard.
Ingredients
4 cups Old Fashioned Oats
1 cup flaked coconut
1/2 cup slivered or chopped almonds
1/3 cup wheat germ
1/3 cup ground flax seed
1/4 cup steel cut oats
2 teaspoons ground cinnamon
1/2 cup coconut oil
1/3 cup brown sugar
1/3 cup water
1/3 cup honey
Instructions
Preheat oven to 300° F.
In a large mixing bowl combine old fashioned oats, flaked coconut, almonds, wheat germ, flax seed, steel cut oats, and cinnamon.
In a small saucepan over medium heat combine coconut oil, brown sugar, and water, stirring occasionally until sugar is dissolved and oil is liquefied. Remove pan from heat and add honey.
Stir liquid mixture into dry mixture until all dry ingredients are thoroughly coated. Place mixture onto rimmed cookie sheet and place in preheated oven. Bake for 60 to 80 minutes, stirring granola every 15 minutes until golden. Remember to stir for even browning and to prevent scorching.
Allow granola to cool completely before storing in an airtight container for up to three weeks.
Sensibly Homemade http://sensiblyhomemade.com/