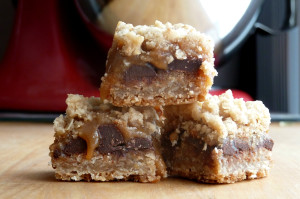 This is one of my sister-in-law's signature desserts and is super scrumptious. I've seen some variations of this recipe posted on other blogs but all those call for melting pre-wrapped caramels. Call me lazy but as soon as my eyes fall on the line "now, unwrap a 14 oz. bag of caramels" I instantly lose interest.
That's not saying I've never made recipes where I've had to unwrap caramels or other types of candies, but when I've already got a tried-and-true recipe for a very similar treat you can bet I'm going to take the easier route.
Don't worry, I'll share this easier route with you. But first, I have a few confessions to make:
1) I LOVE the unbaked crust mixture. Could totally sit and eat it with a spoon.
2) The first time I made these I must have had other things on my mind and been totally distracted because I skipped a few crucial steps. (I forgot to bake the bottom crust and forgot to add flour to the caramel — I really don't know what I was doing.) Despite the omissions it still turned out totally edible and delicious. I've even considered making those mistakes again on purpose (is it still considered a mistake if it's intentional?) because it was a different dessert. . . Sort of.
3) These are HIGHLY addictive. I often think I'll have just one but somehow, inexplicably I'll find myself in the middle of seconds having no idea how I got to that point. Consider yourself warned.
On to the recipe (Finally! right?).
First we start with some softened butter. You can use cold butter if you really want to, but since this isn't a pie crust or biscuits, you'll see me again taking the easier route.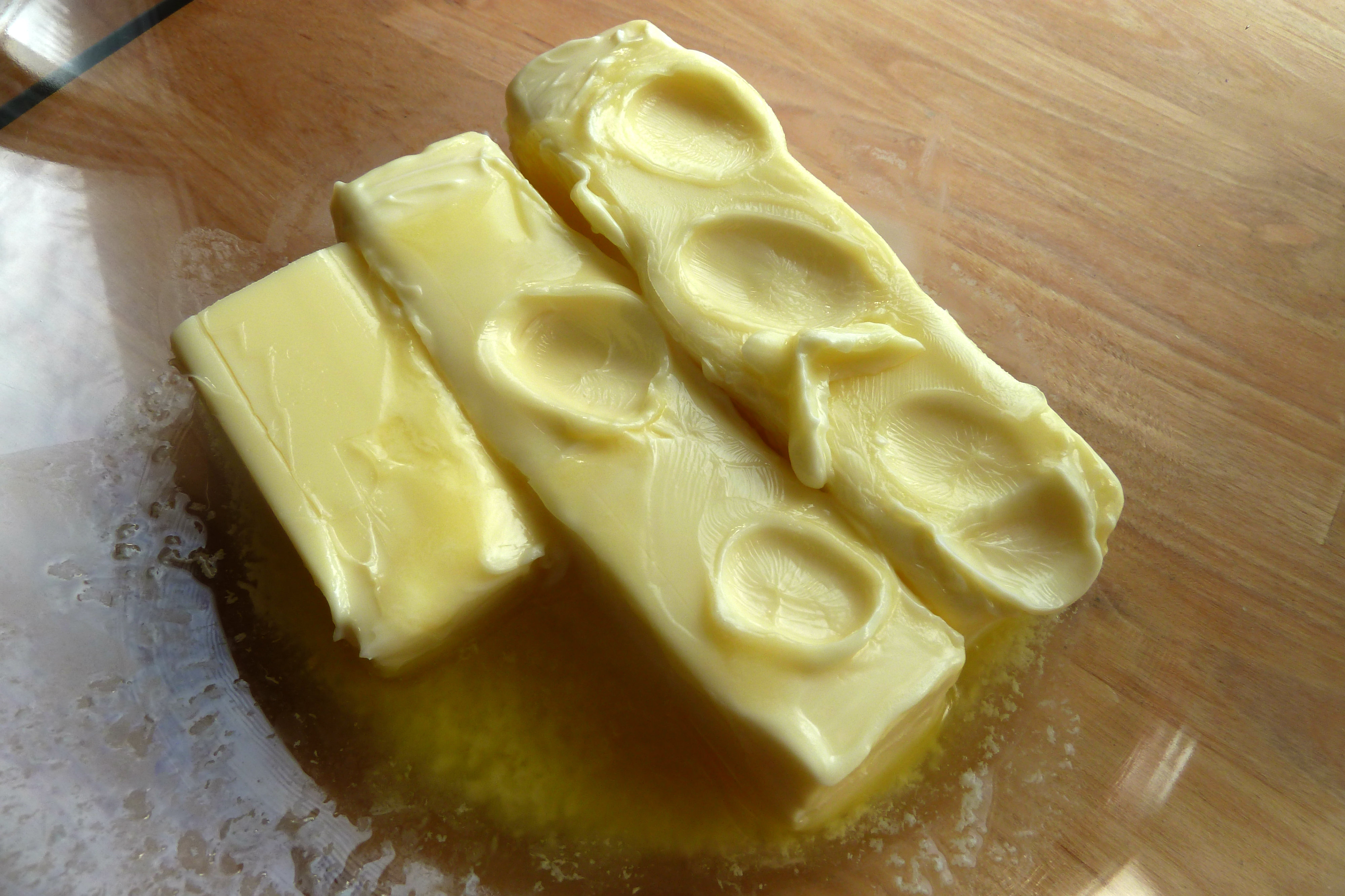 Now take that soft butter with your flour, quick oats, brown sugar, baking soda, and salt and go at it with your pastry blender (or two knives if that's your preference).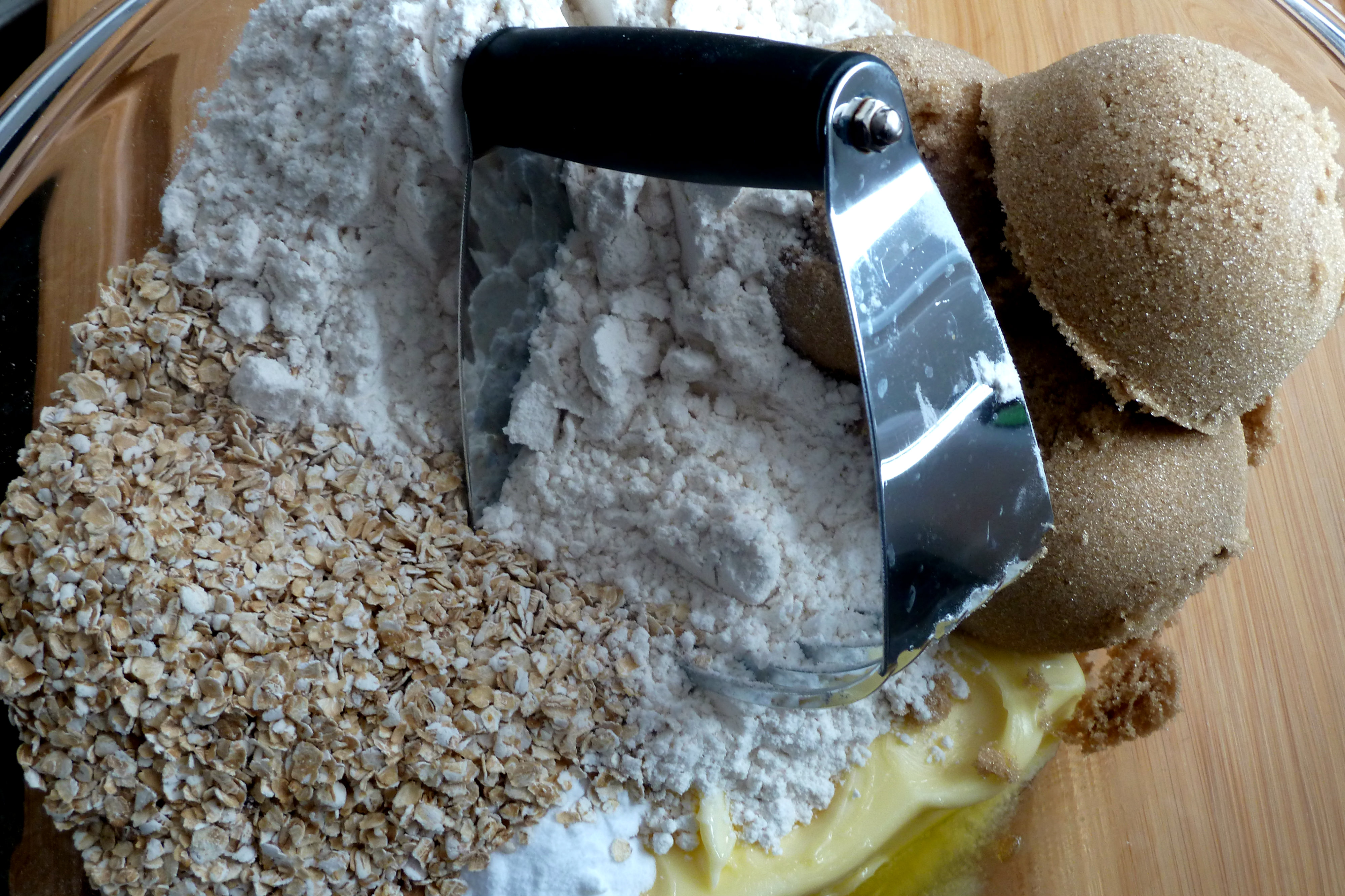 Make it look like this. It could take a little while but don't get discouraged.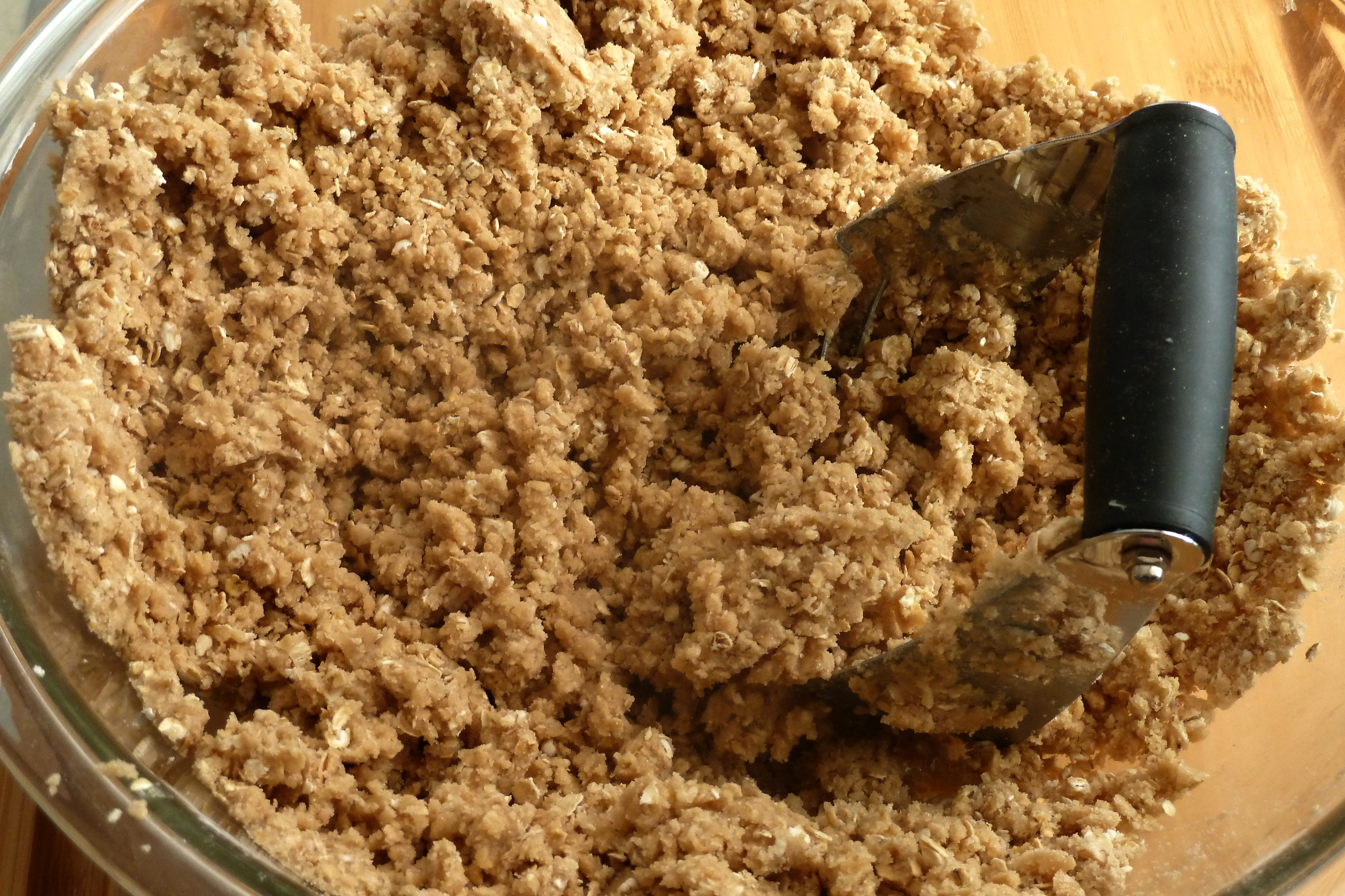 *This is the stuff I love. I have to practice serious restraint to not snitch too much and make sure I have enough left for the recipe. Yeah, really.*
Take half this mixture and press it into a 9″x13″. Bake that at 350°F for 10 minutes.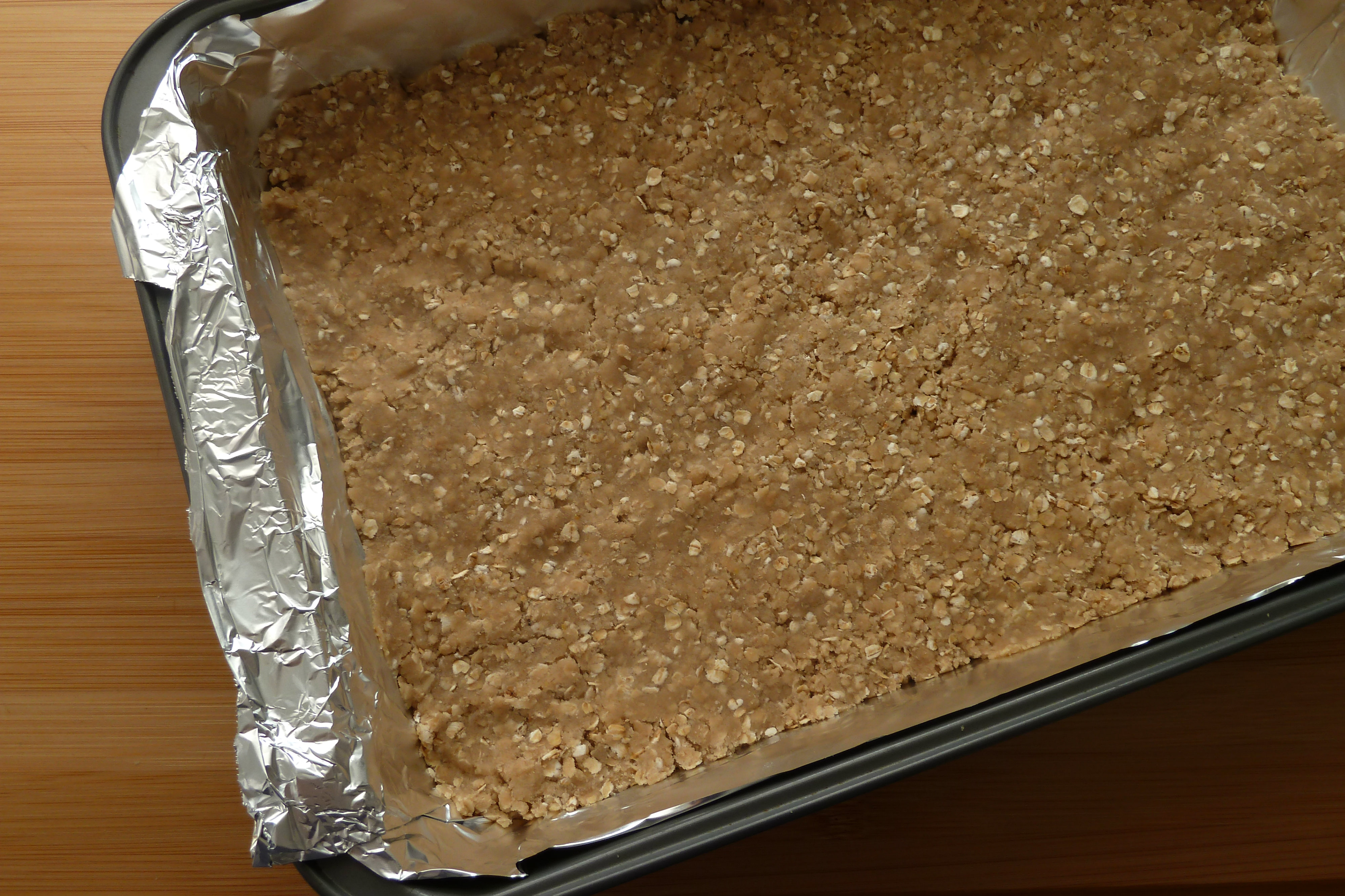 While it's baking open your jar of caramel ice cream topping (yep, here it is, the easier route!) and stir in three tablespoons of flour.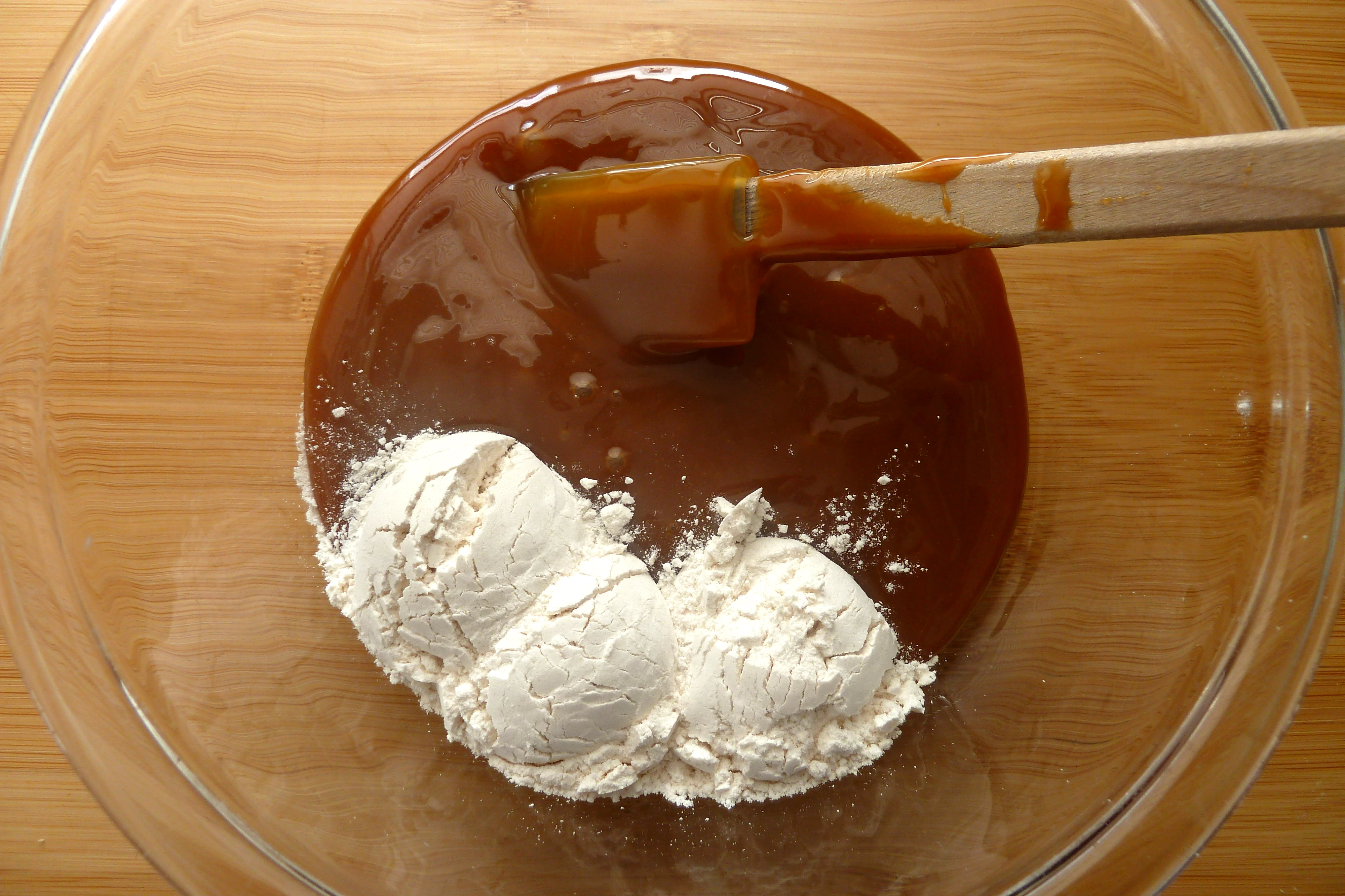 When the oatmeal layer is done baking sprinkle two cups of semi-sweet chocolate chips over top. Then pour on your caramel.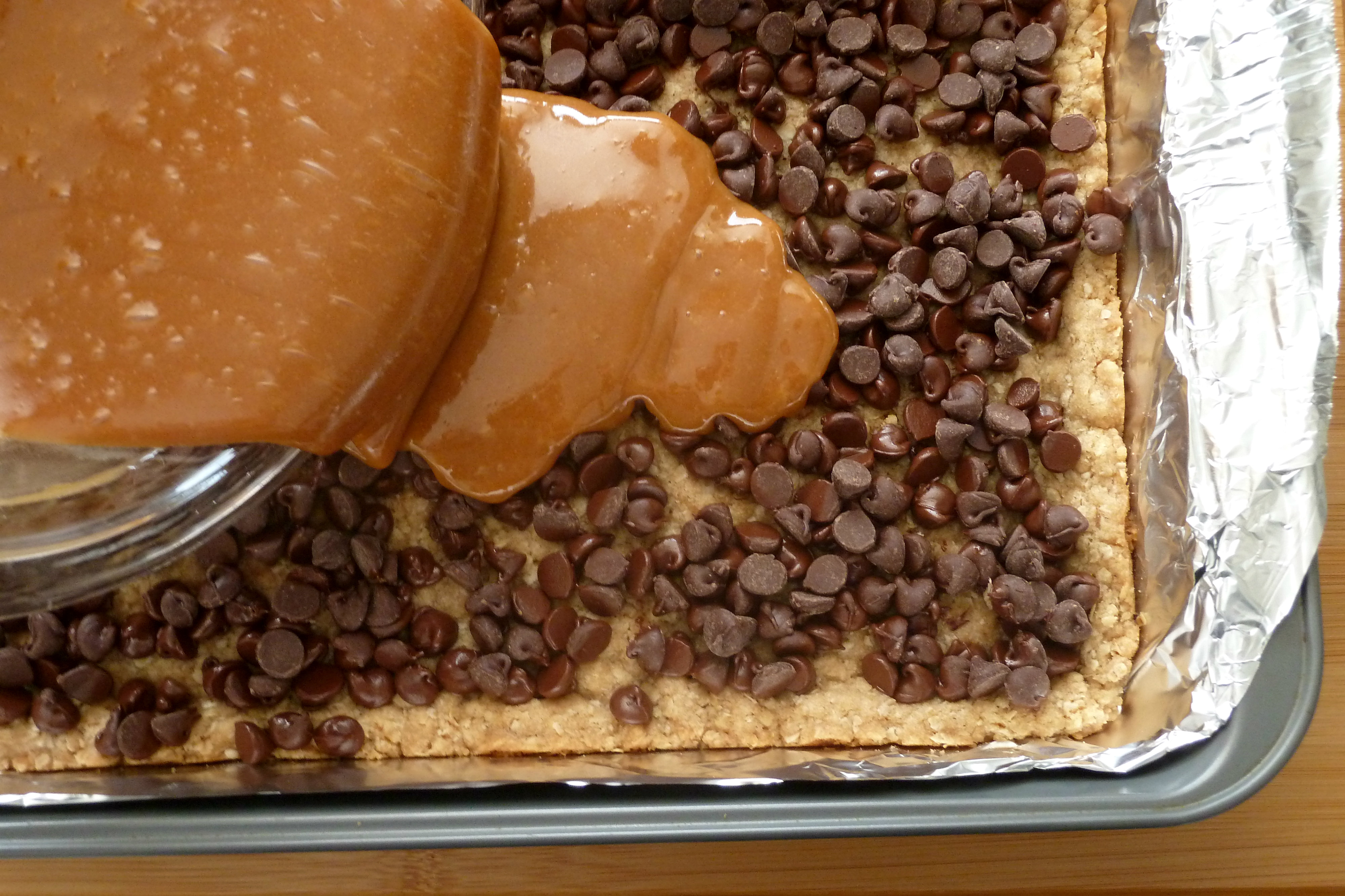 It should look like this once you spread it out.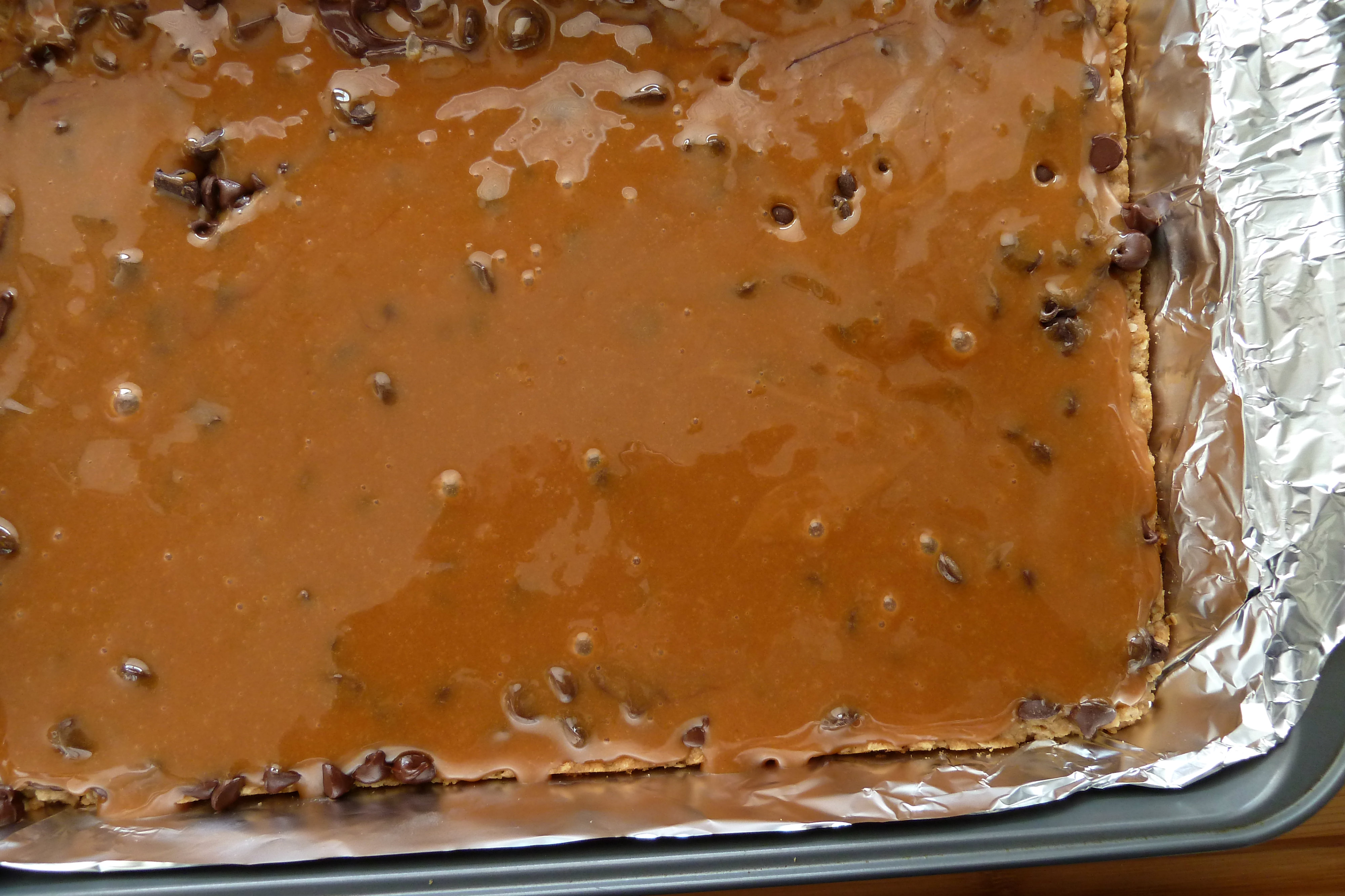 And crumble the rest of your oatmeal mixture on top.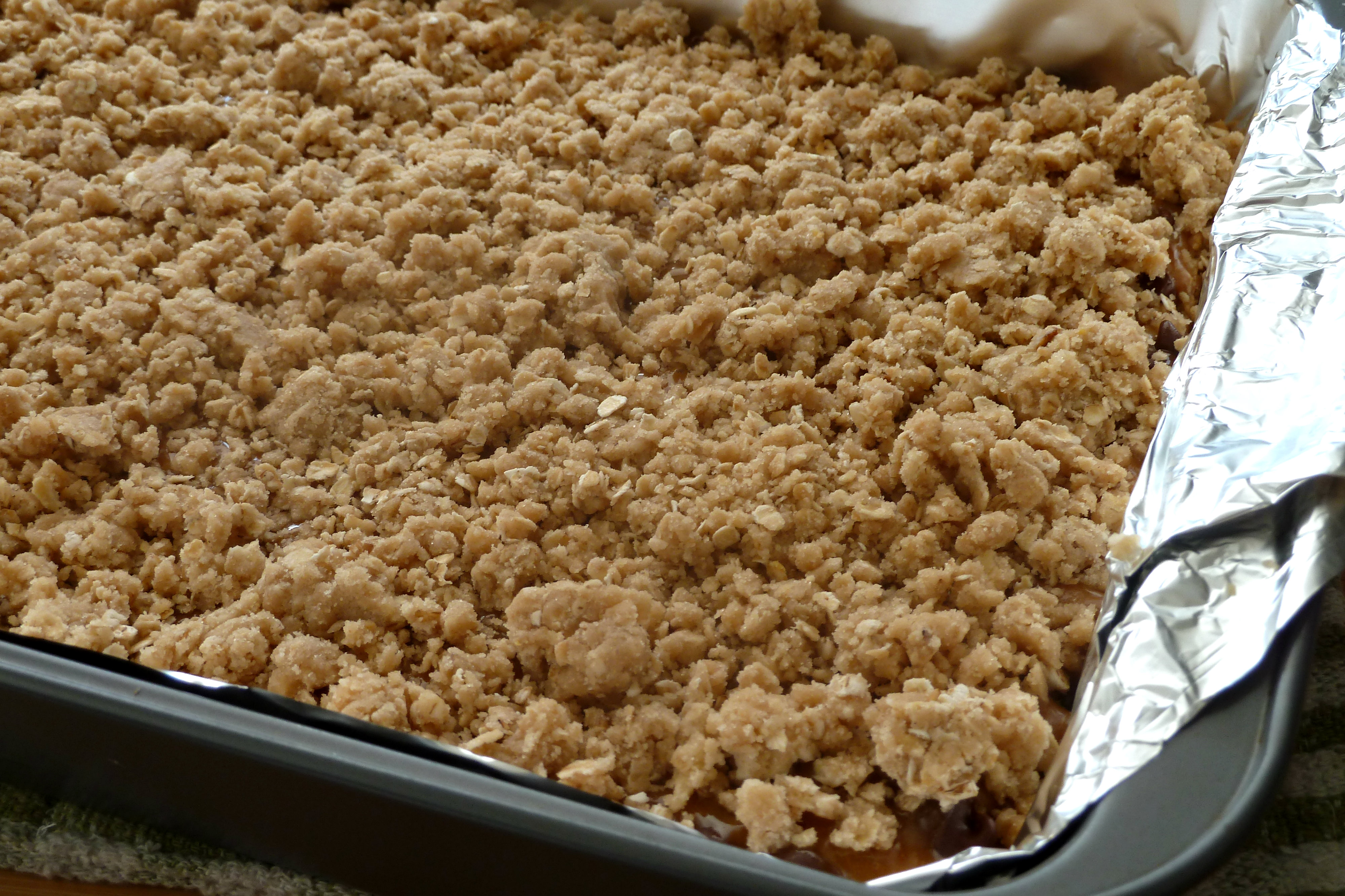 Put the whole thing back into that 350°F oven for another 20-25 minutes or until golden brown. Ohhh, see that rich caramel bubbling up through the topping? YUM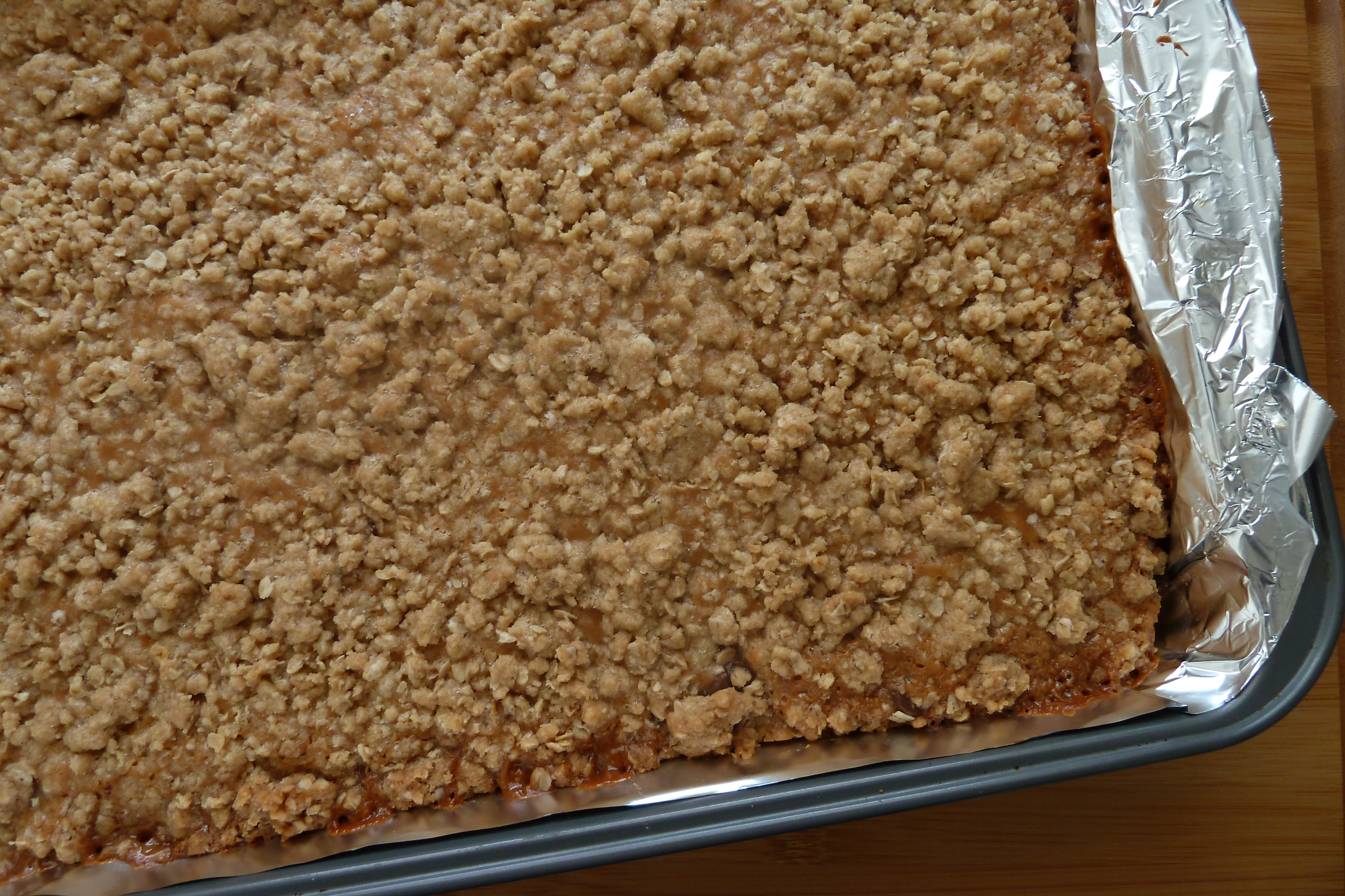 Let it cool, cut it, eat it. Repeat the last step until satisfied. Oh yeah, baby!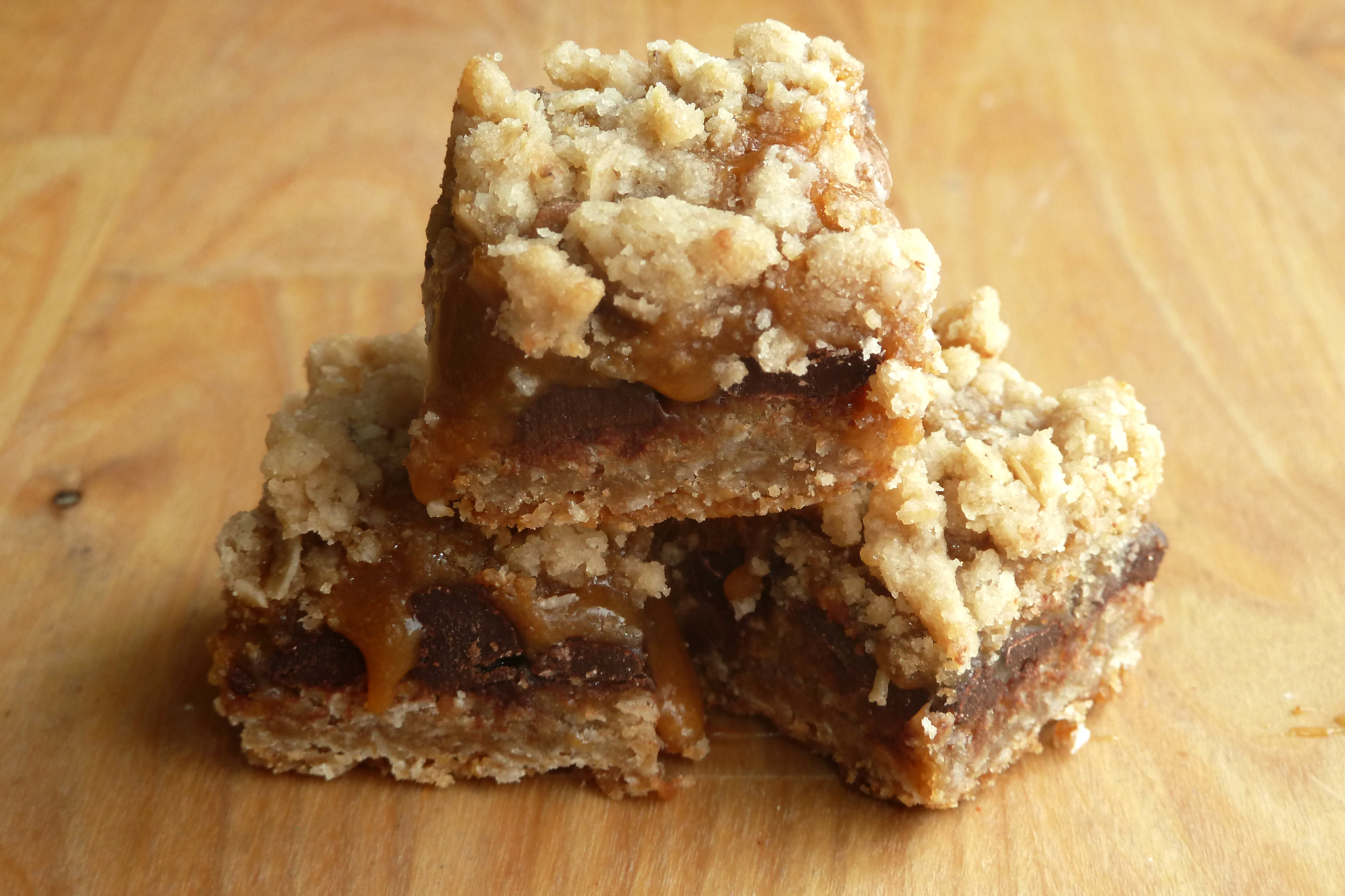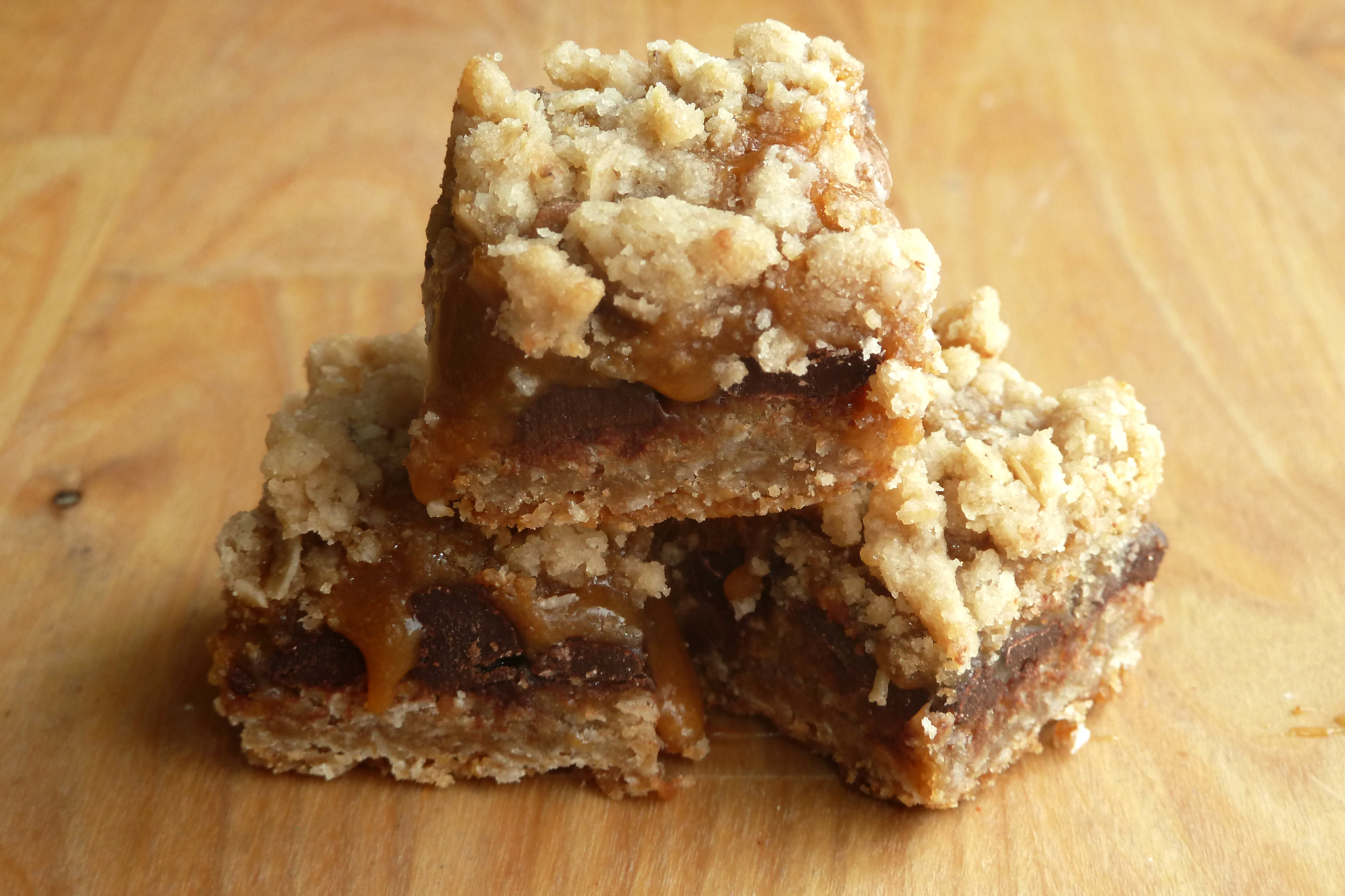 Chocolate Caramel Oatmeal Bars
2013-02-24 19:46:18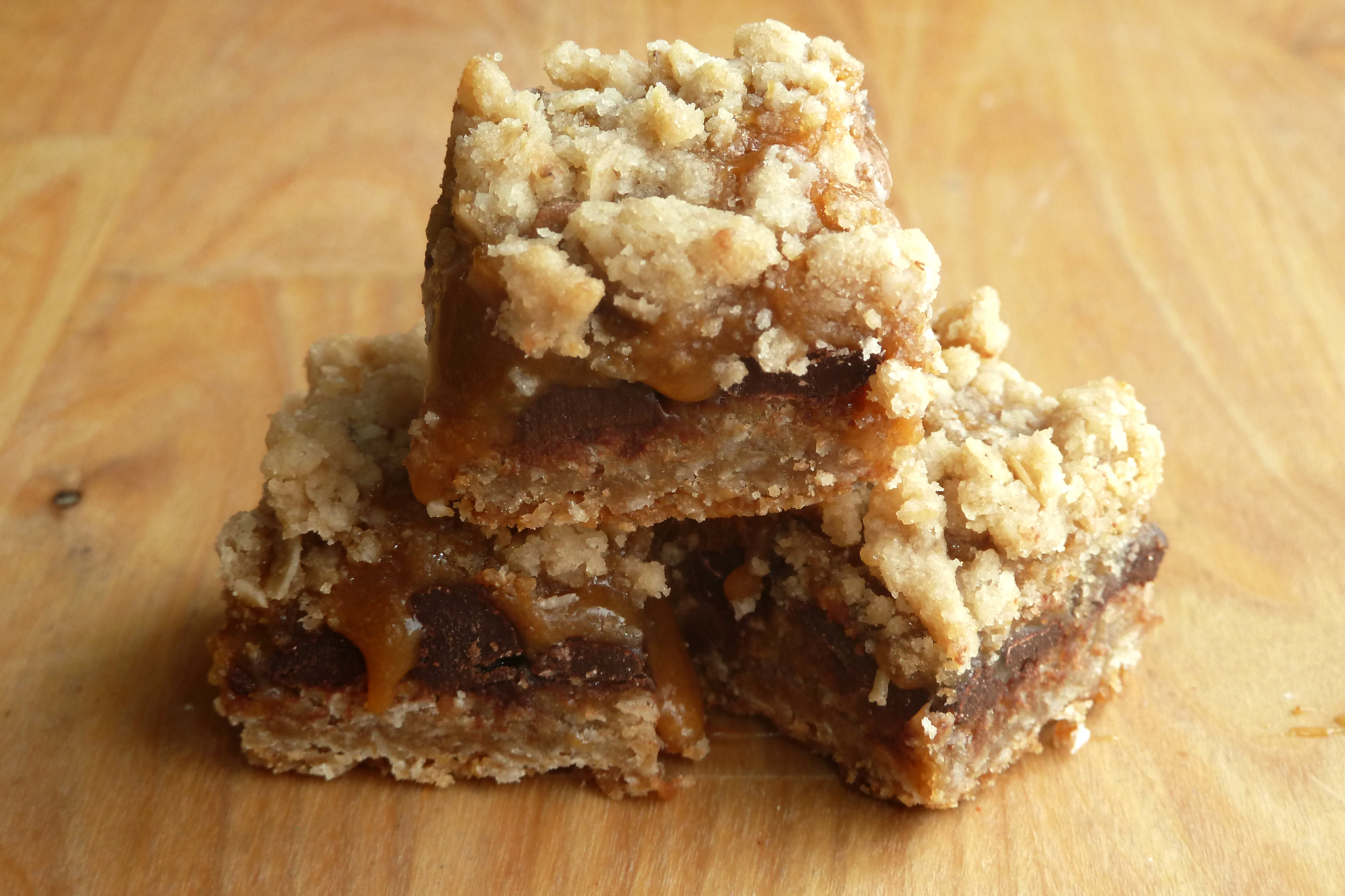 Chocolaty, caramel-y, crumbly oatmeal crust -- how could you possibly go wrong?
Ingredients
1 1/4 cups butter, softened
2 cups flour
2 cups quick oats
1 1/2 cups brown sugar
1 teaspoon baking soda
1/2 teaspoon salt
2 cups semi-sweet chocolate chips
1 jar caramel ice cream topping (16 oz to 17.5 oz)
3 tablespoons flour
Instructions
Pre-heat oven to 350°F.
Using a pastery blender or two knifes combine butter, brown sugar, flour, quick oats, baking soda, and salt until all ingredients are completely incorporated and mixture resembles very course crumbs. Press half this mixture into bottom of un-greased 9"x13" baking pan. Bake for 10 minutes or until golden.
Meanwhile, mix jarred ice cream topping with 3 tablespoons flour.
When bottom crust is removed from the oven layer 2 cups semi-sweet chocolate chips evenly over top. Then spread the caramel topping over the chocolate chips. Last crumble the remaining oatmeal mixture on top.
Return pan to oven to bake for 20-25 minutes or until golden.
Cool, cut and serve. Store in airtight container.
Sensibly Homemade http://sensiblyhomemade.com/
Chocolate Caramel Oatmeal Bars